Sports4U Bavarian Marques Championship One 2019/2020
Bedok View Secondary School
22 March 2020



Man of Match


Trialist 1
Goals
Trialist 1
1st Quarter
Goal Type: Open Play
Assist: Trialist 1

Trialist 1
1st Quarter
Goal Type: Open Play
Assist: Trialist 1

Trialist 1
1st Quarter
Goal Type: Open Play
Assist: Trialist 1


Opponent Goals
| | |
| --- | --- |
| 1st Quarter | : 0 |
| 2nd Quarter | : 0 |
| 3rd Quarter | : 0 |
| 4th Quarter | : 0 |
Match Report
AC United Walk all Over Opponents in Much Needed Win

by Boonadine Limdane
---
It was unexpected.
It all started with a disciplined defensive performance that made no mistakes the entire afternoon. No quarters given at any point of the game. This allowed the rest of the team to focus their attention on the final third on the pitch, which paid handsome dividends for the team in yellow.
A stern right footer that tore the roof of the goal off, a flying left footed scissor kick that left the keeper rooted to the ground and the icing on the cake, a sublime diving header that skimmed off the far post and into goal. Three well taken goals to give AC United a much needed win in a season that promised so much but has so far, delivered little.
Unfortunately, the truth is a little more down to earth.
Due to reasons unknown to us, Team SC decided to concede the walkover at the eleventh hour, gifting us a 3-0 victory without us having to even turn up at Bedok View Secondary School.
Oh well. Not the best of reasons but we will take the win.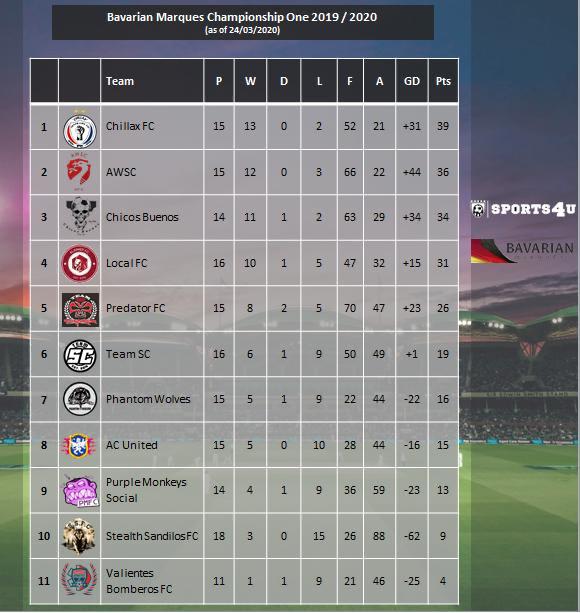 The league table doesn't look pretty, even with this gift of a win.

-
We have won 5 out of 15 games. That makes our win percentage 33%.
On average we have let in 3 goals per game, while scoring only 2 per game.
Those are some damning statistics that go a long way to explaining why we are where we are.
Anyway, a win is a win and we can sit back, relax, and wait for the COVID-19 pandemic to slow down. Hopefully we can take to the field again sooner rather than later.
---
Starting 11: Noone

Reserves: Noone either